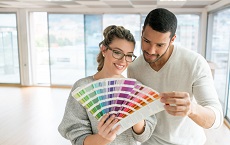 If you're getting ready to paint, make sure you're on point with the latest color trends. Consider the recently released 2018 Color and Design Trends Report from Dunn-Edwards Paints, featuring five color palettes.
To predict what will be trending next year, blogger and Dunn-Edwards color expert Sara McLean looks at the big picture of the many influences that drive color and design trends—everything from world events, lifestyle, fashion and food to trends in travel, wellness and individuality. According to Dunn-Edwards, here are the five color trends—and the inspiration behind them—that are set to be big hits in 2018:
1. Memories.
This trend symbolizes a return to the classics of the 1940s French fashion chic, art deco and art nouveau. The color palette evokes a romantic spirit, with a design that is luxurious and feminine. Colors include blue-greens, lacquer red, dark-brown wood hues and bronzed caramel, lightened with touches of grayish pink and gold.
2. Natural Wonders.
Inspired by nature and innovation, this trend reflects a desire to be surrounded by nature without leaving the city—a back-to-basics focus on well-being without giving up the modern comforts of city life. Colors are casual with springtime and seaside influences, including coral tones, aquatic blues and overexposed color with sunny contrasts like salmon, lobster, pebble and ocean.
3. The Stars.
This trend takes its cue from the rise of fantasy experiences through virtual and augmented realities. Colors are inspired by the exotic world of fantasy, such as pastels layered with lacquer and glow. The influence of technologically based color creates layers of gloss and bling, with pops of rose, hot pink, dark blue and 1980s retro colors.
4. Adventures.
This palette is reflective of myths, lore and legends, and the historical narratives of cultures and people throughout the world. The trend evokes the extravagant colors found in nature, such as reds, emerald greens, amber, lava black and mystic purple with infusions of lava black, earthy brown, dark reds, blues and purple.
5. Childhood Joys.
Reflecting the comfort and routine of childhood along with the fun and games, picture books, fairy tales, science fiction and fantasy, moral tales and children's poetry, this color palette includes the classics of navy, burgundy, gray and beige, along with near-primaries of blue, green and orange.
Source: Dunn-Edwards
Interested in real estate tips? Contact me today for more information.