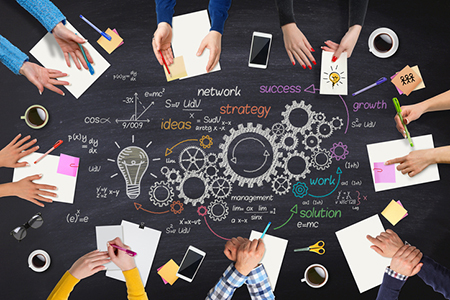 Did your Facebook page drop off your to-do list this year? How about Instagram—fall by the wayside? What about the LinkedIn you pledged to use?
Fifty-seven percent of real estate professionals
say
social media is a time suck. Let's face it: It can be! As the new year gets underway, begin executing (or reviving) your social media strategy with these tips.
1. Be responsive.
First thing's first: Clear out your notifications. Check all of your accounts and pages for any inquiries or messages, and, on Facebook and LinkedIn, for ratings, recommendations and reviews. Address any grievances or questions, and thank everyone who engaged with you, positively or not, for reaching out. If dealing with a dissatisfied reviewer, remember: Your other friends and followers—and prospects—will be watching.

2. Brand with consistency.
Branding that's consistent not only conveys professionalism and fosters recognition; it's also essential for practitioners of real estate, whose brand is often centered on their name and/or slogan. Add coordinating cover images to your Facebook, LinkedIn, Twitter and YouTube pages, and ensure your headshot or other profile picture is the same and updated. (Pro Tip: Continue the consistency with a custom landing page.)
3. Reach out.
According to the National Association of REALTORS® (NAR), the majority of REALTORS®' business comes from repeat clients and referrals. If you've been dark on social media this year, touch base now. Consider direct messages with an invitation to meet in the New Year—and, a reminder that you're always available should they have any need or questions.
4. Stay professional.
Facebook has more than 2 billion users; LinkedIn has nearly 470 million. That's a lot of eyeballs—and a lot of opinions. Whether you're implementing a new plan or revamping your strategy in 2018, avoid comments that are divisive or polarizing. Think inclusive, neutral and thoughtful. If you don't already, consider maintaining separate accounts for your personal and professional Facebook and/or Twitter pages.
5. Try something new!
If you have downtime this month, explore other options. Always wanted to give Instagram a go? Ready to snap on Snapchat? Leverage the time you have now by joining a new platform and learning how to use it.
Suzanne De Vita is RISMedia's online news editor.