A Safe Season for Your Pets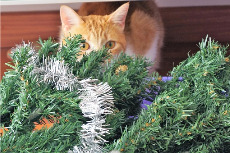 While we go to great lengths to make the holidays merry for our friends and family, it's important to make sure that our pets are well cared for amidst all the hustle and bustle. Petco advises pet owners to take the following precautions to minimize potential health and safety hazards for our four-legged friends during the season.
Be mindful of décor: Decorate with pet safety in mind. Glass ornaments, ribbons and tinsel can be harmful to pets if broken or ingested. When it comes to lights, cover electrical cords to prevent possible shock or electrocution.
Plants: Pine needles are sharp and difficult to digest for pets. Other harmful plants that should be placed out of reach include mistletoe, holly, lilies and poinsettias.
Festive foods: Avoid feeding pets table scraps and human treats like chocolate, turkey skin, grapes and raisins, caffeine, bones, onions, sweets and spices. If you suspect your pets have accidently ingested any of these foods, contact your veterinarian or a pet poison helpline immediately.
Parties: Unfamiliar guests and lots of noise can be stressful to your pets, so you may want to consider keeping them in a quiet place, away from people and dangerous foods.
Travel: Be sure to make the necessary arrangements for proper pet care if you're traveling. Have all the necessary items for them if you're traveling, or have the proper care in place if you're leaving them at home.
Provide your sitter with a detailed checklist, including feeding and treating schedules, habitat cleaning instructions, emergency contacts and general care and maintenance information for each animal to help them take the best care of your pets.
Copyright© 2020 RISMedia, The Leader in Real Estate Information Systems and Real Estate News. All Rights Reserved. This material may not be republished without permission.