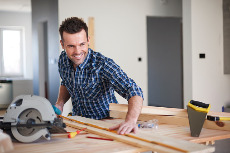 Whether it's because they're young and tight on cash or love the sense of accomplishment, the majority of homeowners are taking remodeling projects into their own hands, according to a recent report from the National Association of REALTORS®.
The 2019 "Remodeling Impact Report: DIY" reveals that homeowners who want to add a personal touch to their homes are opting to do it themselves over hiring a professional, especially millennials. Respondents reported a "Joy Score" of 9.9 for projects they completed themselves compared to a score of 9.6 for those completed by a professional. Understandably, 97 percent of DIYers enjoyed a sense of accomplishment upon completing their project, compared to just 93 percent of those who enlisted the help of a professional.
Why are DIYers embarking on remodeling projects in the first place? The reasons broke down as follows:
- Increase functionality and/or livability of their home: 35 percent
- Increase the home's beauty and aesthetics: 19 percent
- Adding durable and long-lasting materials and appliances: 15 percent and 18 percent
Interestingly, projects that were designed to add personality to a home were twice as popular among DIYers than among those hiring a professional (10 percent and 5 percent, respectively).
Not surprisingly, the choice to DIY was greater among the younger generations: nearly three-fourths of Gen Y and millennial consumers (73 percent), over half of Gen X (51 percent) and 50 percent of younger boomers choose to DIY home projects, while 70 percent of the silent generation indicated that they hired a professional to complete their project.