Keep Your Flooring on Trend This Year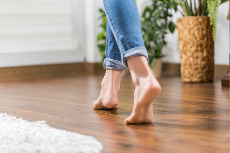 One of the most important design elements for the home is happening right under your feet. Our choice for flooring has a critical impact on the entire look and feel of every room in the house. From
styleblueprint.com
, here are some of the top trends in flooring for the year ahead.
Lighter hardwoods. Wood flooring will never go out of style, but according to designers, this year, lighter-toned hardwoods with smooth, matte finishes will be more popular choices; 4 - 5-inch widths are also on trend.
Natural finishes. Natural finishes for wood floors are also rising in popularity over stained wood floors. To achieve the natural look, the wood is oxidized with minerals that react with tannins in the wood to create color.
Gray wood. Our love affair with gray continues, as gray wood flooring gains popularity. Shades of gray run the gamut, from light to driftwood to darker rustic hues.
Hardwood in bathrooms. Many homeowners are also opting for hardwood floors in bathrooms, especially distressed or antique looks that add a unique warmth. If opting for hardwood in the bathroom, it's a good idea to finish floor areas where puddles may form—such as around the tub—with tile.
Darker carpeting. New trends in wood flooring blend well with the latest looks in carpeting. This year, dark colors will be popular in carpets, such as black and charcoal, as well as jewel tones. These rich colors play well against warm woods when used for stair runners or area rugs in bedrooms and living spaces. Low-profile, patterned carpets will gain favor over thicker, shag varieties.
Copyright© 2019 RISMedia, The Leader in Real Estate Information Systems and Real Estate News. All Rights Reserved. This material may not be republished without permission.