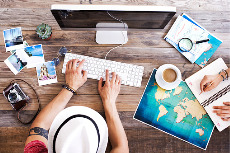 With the summer season looming, there's most likely a vacation in your not-too-distant future. While the focus of any trip should be relaxation and fun, take a few necessary precautions to ensure you stay safe while away, as certain risks are inherent to traveling, such as theft.
The good news is, staying safe involves a few simple steps and a healthy dose of common sense. Do the following to protect yourself—and the home you leave behind—while you're away:
Share Your Itinerary.
In today's always connected world, you may not feel the need to let friends and family know the details of your trip in advance, but it's still the safest way to go. Give a couple of trusted loved ones the details of your airline reservations, the cities you'll be visiting, and the hotels where you'll be staying.
Consider Trip Insurance.
Depending on the nature of your trip, travel insurance may be a wise investment. Be sure to read the fine print or check with your travel agent or airline to find out exactly what it covers.
Research Your Destination in Advance.
If you're traveling to a new destination, do your research in advance and find out the safest neighborhoods to stay in and tour...and those to avoid. Also find out who to contact in an emergency; research the number of the nearest consulate, police station or embassy.
Make Copies of Critical Documents.
Make copies of your driver's license, passport, Social Security card or any other important forms of identification or paperwork. In addition to scanning a copy so that you have access to them online, be sure to print out several copies and stash them in different locations.
Pay With Credit Cards and Travelers Checks.
Both of these options pave the way for recourse should you encounter a fraudulent situation. Try to avoid using your debit card or cash.
Utilize Hotel Safes.
Put safes in hotel rooms to good use, especially when traveling outside the country. Use them to store valuable jewelry, extra cash, your passport or important medications.
Post on Social Media After Your Trip Is Over.
Avoid the temptation to post in real-time. Doing so alerts local thieves that your home is unattended and primed for a robbery. Wait until you're safely back home to post pictures and memories of your trip.