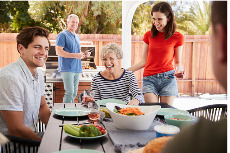 'Tis the season for outdoor entertaining, which means juggling the art and science of al fresco meals. Here are eight great tips from Erie Insurance for your next picnic or barbecue to help serve delicious food safely:
1. Start with a clean cooking space.
This seems obvious, but we tend to take short cuts when cooking outside. Before prepping your food, remember the basics: wash your hands and utensils, and prep surfaces with soap and water to avoid contaminating your food with germs.
2. Rinse off fruits and veggies.
Keep in mind that your produce has made a long journey before arriving on your table, so be sure to give fresh fruits and vegetables a good wash before serving them.
3. Watch out for cross-contamination.
Certain foods are breeding grounds for foodborne bacteria, specifically: eggs, raw meat, poultry and seafood. When preparing these foods, use separate knives, plates and cutting boards. You should also keep them separated from other foods in your refrigerator.
4. Cooking at the right temperature.
Use a food thermometer to make sure you're cooking meat to the right temperature. According to the Centers for Disease Control and Prevention (CDC), here are the safe minimum internal temperatures your foods need to reach to destroy harmful bacteria. Keep this stuck to your fridge or above your stove:
145 degrees Fahrenheit for whole cuts of beef, pork, veal and lamb
160 degrees Fahrenheit for ground meats, such as beef and pork
165 degrees Fahrenheit for all poultry, including ground chicken and turkey
145 degrees Fahrenheit for fish
5. Use clean utensils for serving.
With cross-contamination in mind, don't use the utensils you used to cook raw meat, fish or eggs, to serve those foods. Choose clean serving utensils instead, and place these items on a clean platter.
6. Watch the temperature of hot foods.
Hot foods need to be kept at or above 145 degrees Fahrenheit, so keep them on the grill, away from direct heat, or store them in insulated containers.
7. Keep cold foods chilled.
Make sure all those summer salads aren't left sitting in the sun. Keep cold foods below 40 degrees Fahrenheit by storing them in a cooler or keeping them in a shallow pan filled with ice.
8. Don't leave food out for long.
Despite your best attempts to keep food at the proper temperature, don't leave it outside for too long. Bring it inside to an air-conditioned kitchen to extend its life further, then into the fridge soon after. Food should never be left out more than two hours, or one hour in temperatures above 90 degrees Fahrenheit. If it's been longer than that, you'll need to throw it away to be safe.
Following these guidelines will help ensure that your guests go home happy
and
healthy.